This article is aimed at technicians to use as a quick reference guide when terminating a Challenger LAN device.
All Tecom Challenger LAN devices, including the panel, use a 470 Ω LAN termination resistor (where required). LAN termination resistors are used to set the impedance of the LAN to around 220 Ω in order to minimise noise.
The termination resistor may be external or onboard (devices with an onboard resistor use a link or a DIP switch to set the LAN termination to ON).
A Challenger LAN should have only two devices with the LAN termination set to ON (or the LAN termination resistor fitted):
In a straight LAN configuration (see Figure 1) the termination is ON at the Challenger panel and the most distant device.
In a star LAN configuration (see Figure 2) the termination is ON at the two devices that are the furthest apart (and OFF at the Challenger panel, if it's not at the end of one of the longest cable runs). See also "Star LAN" on page 6 of the Challenger Installation and Quick Programming Manual.
In a completely-connected (but powered down) system, you can check for correct LAN termination by measuring the resistance across the Challenger panel's D+ and D- terminals:
0 Ω indicates a short circuit in the cabling
160 Ω or less indicates that three or more devices are terminated
220 Ω is good (two devices are terminated)
470 Ω or more indicates that less than two devices are terminated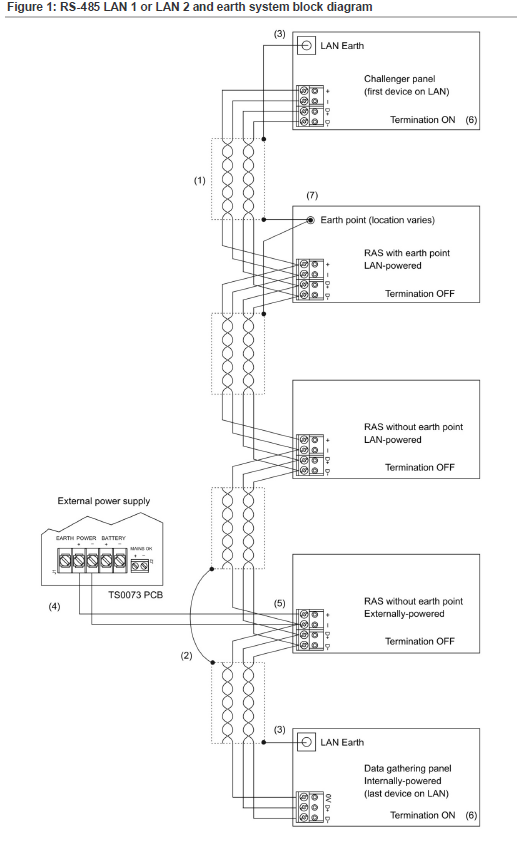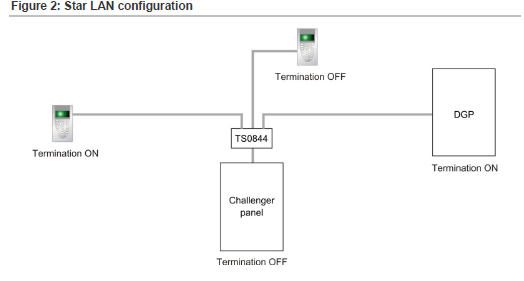 Checking LAN performance
Use Install menu option 23 Poll Errors to check for poll errors on the LANs. We recommend if poll errors occur more than one every 5 seconds, check the LAN cabling and termination.